BEFORE:An Old Smoking Table bought for $5 bucks
Antique Auditorium seats, stole for $15!!! See the "afters" below!!!
I finally found some time to work on some of the stuff I brought home from the flea market in Warrens WI. I had so much fun putting it all together! I don't know what I like better, the chairs or the table! The chairs have so much history, but the table is just so unique!
I did get the idea from Junk Beautiful Outdoor edition. They have a similar table made with a printers drawer and wash boards. It was my own idea to add the old letters and the photos. It is now my own family heirloom! I bought the printers drawer from an antique vendor, and got the washboards from my SIL Jess, they were from her grandmothers stash of AWESOME junk!!! The table top is just a piece of Plexiglas from the home depot.
The letters on the chairs are my 3 boys 1st initials.
This candle holder I made from an old chair spring & some votive holders that fit perfectly inside. There are so many cool things that you can do with these!
I left all the original hardware on the chairs, including these cool little book holders under the seats!
And lastly I re-finished this old smokers table, the inside is tin, so you can actually burn a candle inside without staring the table on fire! Well that's all for today! Now it's time to get caught up on some laundry, TV & finish my latest Jodi Picoult book!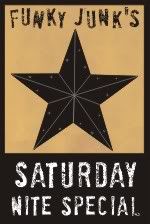 I am having fun with Donna over at Funky Junk Interiors! Check out her
blog here
, I promise you will be soooooo inspired!!