I have officially won a blogging award! YEAH! I just found out that I was nominated for this one twice! Once from the Trendy Tree house, and another from
Mom vs the boys
! Thank you so much ladies! I feel so honored!
And thank you to Tara at the Trendy Treehouse for giving me this honor!Be sure to stop by her awesome blog, she had a fabulous contest running right now!
So in honor of winning this award I am supposed to let you know my 15 fav blogs, but I am gonna change that up just a little. I have been wanting to give some of my favorite blogs some bloggy love anyway, so I am going to combine that with this award! So here goes!
First up is Donna at Funky Junk Interiors, if you have never been to her blog, it is a must! I am inspired by Donna everyday, her blog is full of great ideas, fun, and humor! Stop by and see Donna and some of her amazing projects! She also has a great linky party every Saturday night!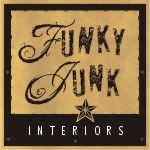 These are just 2 of my Favorites from Donna's Blog!
Next up is one of my very dear friends, and the one who got me addicted to this love of Junking and has helped me learn to be more frugal and use what I have on hand, it is Krista from
Snowman Hill
!!
She does all of this with her very talented mom Dana, they make a great team, and I am so excited about their new shop that will be opening summer of 2010, but for now, you can buy their fabulous refurbished goodies at Old Town Antiques in Duluth! Here are just a few of my favorite things from them!
I am still waiting for Dana to be ready to part with this so I can buy it!
My next choice is going to the girls at Shanty 2 Chic, another amazing blog that will fill you with so many fun ideas, and the step by step instructions on how to make things! I love that!


These Joy plaques won them a huge contest and a trip to See Martha Stewart on NYC!
Next I would like to feature Making the world Cuter! Such a great variety of handmade projects,
you are sure to take something away from this blog!
She hosts a fun linky party every Monday so be sure to stop by!

And last, but certainly not least is Patina Soul. I just recently came across this blog, and I am so glad that I did! Talk about some great junk! I could browse her site all day long! She also has lots of great giveaways!
I could have easily posted about 20 pictures here! Be sure to check her out!
Now I am supposed to tell you 7 things about me, so here goes!
1. I am a HUGE Keith Urban Fan, see him 7 times in concert, met and hugged him twice, and even have his logo tattooed on my leg, I wasn't kidding about being a huge fan!
2. I am very happily married to the love of my life and we have 3 wonderful boys. ( is it wrong that I posted about keith 1st?)
3. I love fixing up things I get for free on the side of the road.
4. I work full time at a bank.
5. I take on way to many projects ( business ventures) at once.
6. I am working on going "pro" with my photography business.
7. I am on my computer way to much! ( Just ask my hubby)
Now for those that i featured here today, feel free to grab my button,

Now it is your turn to spread the love, who are your favorite blogs? And please tell us 7 things about you so we can all get to know you better! Have fun!